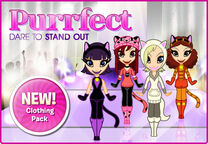 Please do not take the version of this information without permission, thank you. The Cat Suit Collection is one of the popular most known OLD AGA clothing line, OLD AGA usually would wear this. The line was released around February 2009 and discontinued around Spring 2012. The outfits were available in Forever Chic.
During October 2014 the pack came back as a re-release with the others outfits in the Star Mall. However some of the original outfits were not re-released. The pack was re-released in Harajuku Threads.
Ad blocker interference detected!
Wikia is a free-to-use site that makes money from advertising. We have a modified experience for viewers using ad blockers

Wikia is not accessible if you've made further modifications. Remove the custom ad blocker rule(s) and the page will load as expected.